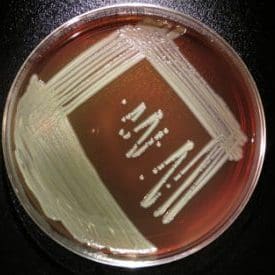 Get A Testing Quote
Elizabethkingia meningosepticca
STRUCTURE AND PHYSIOLOGY
Elizabethkingia meningosepticca is a Gram-negative slightly curved rod-shaped bacterium. This organism produces large, smooth colonies on blood and chocolate agars within 24 hours. The microorganism is found worldwide in soil, river water, and reservoirs.
TRANSMISSION AND DISEASE
E.meningosepticca can cause meningitis in newborns and immune-compromised individuals. However, outbreaks are rare and usually localized to small groups. E. meningosepticca can be resistant to antimicrobial agents routinely prescribed for Gram-negative infections. However, E. meningosepticca is generally susceptible to agents that are active against Gram-positive bacteria such as rifampin and vancomycin.
REFERENCES
Centers for Disease Control and Prevention, National Center for Emerging and Zoonotic Infectious Diseases (NCEZID), Division of High-Consequence Pathogens and Pathology (DHCPP), last reviewed March 30, 2016.
Michael T. Brady, Mario J. Marcon, in Principles and Practice of Pediatric Infectious Disease (Third Edition), 2008.
Hilmar Wisplinghoff, Harald Seifert, in Infectious  Diseases (Third Edition), 2010.
Image from: Elizabethkingia | CDC
Share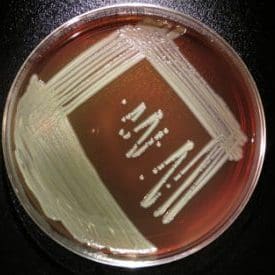 Get A Testing Quote